Welcome to MonroeTrails!
Posted: 02/16/2019 07:38 am
Status: Open
Condition: Good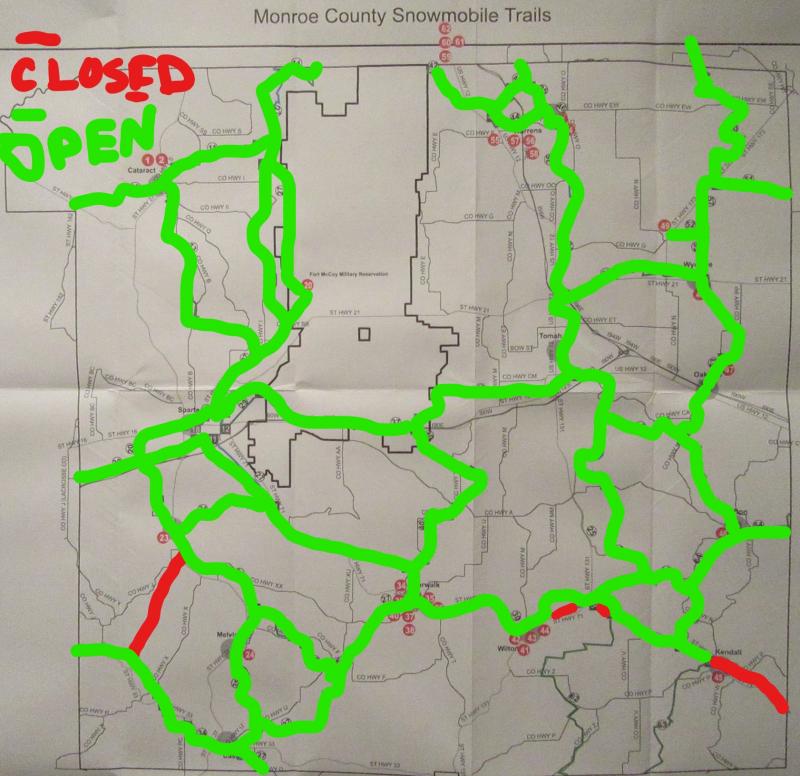 SATURDAY FEBRUARY 16, 2019 TRAIL REPORT
STMC Fundraiser is tonight beginning at & PM at the Wilton Community Center. $5 to get in the door for food, refreshments door prizes and other games. $5 will also get you a chance at some very nice cash prizes!
Groomers are trying to get caught up with all of the trails at this time, but having a hard time. We apologize for any possible rough trails you may encounter, and we hope to have taken care of soon!
All trails in Monroe County are now open except the trail from Leon to Middle Ridge and the bike trail from Kendall to Elroy! Please be aware of drifting snow and some groomers out and about and they may sneak up on you! This may take the groomers a while to get all through, but we are trying!
Please stay within the marked trail markers! If we see tracks of people riding off trail, some trails may be closed! We know the powder looks nice to play in, but stay within the markers to avoid any unknown obstacles that may now be buried under all this fresh snow!
Latest News
Fri, Nov 23rd, 2018 |
Upcoming snowmobile safety courses
Latest Events
Equipment fundraiser for Snowmobile Trails of Monroe County
Sat, Feb 16th, 2019 7:00PM