Welcome to MonroeTrails!
Posted: 02/07/2016 01:27 am
Status: Partially Open
Condition: Poor
SUNDAY FEBRUARY 7, 2016 TRAIL REPORT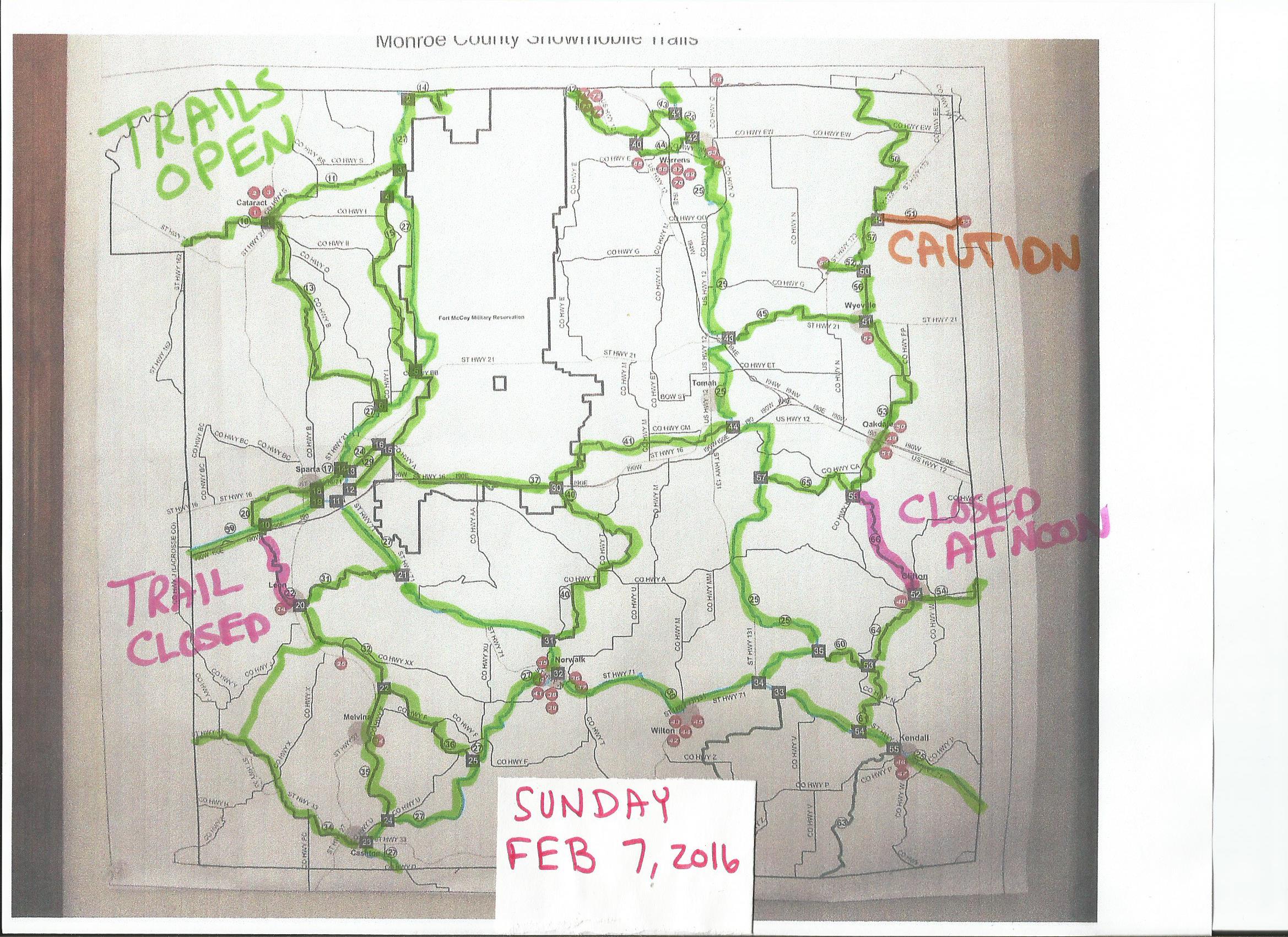 WE HAVE MULTIPLE ISSUES TO DEAL WITH AT THIS TIME.
 PLEASE USE EXTREME CAUTION WHEN RIDING BETWEEN WYEVILLE AND EAGLE'S NEST ON TRAIL 51 FROM INTERSECTION 45 EAST. THERE ARE SOME DIPS AND DITCHES THAT HAVE GOTTEN DRASTICALLY WORSE AND MAY CAUSE DAMAGE OR INJURY IF YOU COME UPON THEM TOO FAST!
 PLEASE USE CAUTION ON TRAIL 25 NORTH OF THE VA HOSPITAL AT TOMAH.
 Where the trail parallels the railroad and town road, riders need to stay to the left of the markers when going north and ride with traffic when going south, the trail has been marked accordingly. Otherwise, the R/R will be handing out trespass tickets.
 AND IN ADDITION TO TRAIL 22 BETWEEN LEON AND THE LACROSSE RIVER TRAIL BEING CLOSED,
 TRAIL 66 FROM INTERSECTION 56 TO INTERSECTION 52 FROM SOUTH OF OAKDALE TO CLIFTON WILL BE CLOSING AT NOON SUNDAY THE 7TH!
 THIS TRAIL WILL BE CLOSED DUE TO PEOPLE RIDING OUTSIDE THE MARKED TRAILS FOR LONG DISTANCES AND EVEN THROUGH GATE PANELS OF LAND OWNERS! THESE INSTANCES WERE NOT JUST MISSING A CORNER OR AVOIDING AN ACCIDENT. THIS WAS AN ABSOLUTE CASE OF DISRESPECT FOR OUR LAND OWNERS, OUR CLUB MEMBERS, AND ALL OTHER SNOWMOBILERS WHO WILL NOW HAVE TO FIND AN ALTERNATE ROUTE AND HOPE THAT IS NOT CLOSED NEXT!
Latest News
Posted: 12/04/2015
BLUE MOUNDS STATE PARK TRAILS
Latest Events
Event Date: 02/20/2016
STMC FUNDRAISER
Equipment fundraiser for Snowmobile Trails of Monroe County
Read More...